Public Symposium: Love in A Time of Fear
LOVE IN A TIME OF FEAR
The InterReligious Institute at Chicago Theological Seminary welcomes co-facilitators, Dr. Cassie J. E. H. Trentaz (PhD '10), Dr. Uzma Jamil, and Michelle Lang on Wednesday, April 10, 2019, for a day of interactive learning, skill building, and artistic activism based on Trentaz' book and film project, Love In a Time of Fear.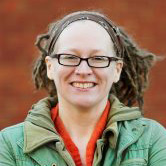 Dr. Cassie J. E. H. Trentaz
Dr. Cassie J. E. H. Trentaz (PhD '10) is Associate Professor of Theology, Ethics, and Church History at Warner Pacific University in Portland, Oregon. She is the author of Theology in the Age of AIDS & HIV: Complicity and Possibility (Palgrave Macmillan, 2012) and is a parent, partner, neighbor, teacher, minister, activist, and low-key rascal committed to inching, stumbling, and leaping toward glimpses of shalom in the world today following the lead of those often excluded.
Co-facilitators
Dr. Uzma Jamil, IRI Fellow in Muslim Studies
and
Michelle Lang, Artist/Minister/Activist/Composer
Pre-Symposium Community View
In advance of the symposium, all are encouraged to join the CTS community in watching the four short films which accompany the book Love In A Time Of Fear by Trentaz. The films give those being misrepresented or marginalized within our current sociopolitical climate a chance to speak for themselves. They explore the subject's whole person rather than reducing them to a set of issues. Viewers have the opportunity to spend some time getting to know someone, that due to the divisions in our society, they might not have a chance to connect with in person.
Host a viewing party with your friends, or watch on your own before April 10. Find the Videos at loveinatimeoffear.com/the-films.
Schedule
9:00 am-3:30 pm
breakdown coming soon…